http://www.ebnonline.com/author.asp?section_id=1084&doc_id=247776
The statistic pops up often when the problem of counterfeit electronics is discussed. It's a number from a chart in a 2009 Department of Commerce study on the topic.
The chart breaks down counterfeit incidents reported by original component manufacturers (OCMs) by sales channel. It probably surprises no one that 50 percent of the OCMs that have gotten a counterfeit part reported getting one from a broker, and that 45 percent reported getting one from an independent distributor. But the chart also shows that 21 percent of OCMs reported a counterfeit incident involving an authorized distributor. That has raised many an eyebrow.
Percentage of OCMs With Cases of Counterfeit Incidents Sold by Type of Entity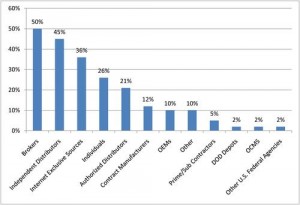 Note: Includes only companies that encountered counterfeits.
(Source: US Department of Commerce, Office of Technology Evaluation)
That 21 percent is a point of contention in the industry. Some believe the statistic is valid. Chrys Shea, founder and owner of the consulting firm Shea Engineering Services, was one of several presenters at a recent conference on counterfeit electronics who showed a slide of that chart and pointed out the figure. "There is a myth that, if you don't want counterfeits, then just stay with an authorized distributor," he said.
Chip makers and authorized distributors dispute the number, of course.
"When we or our authorized distributors get accused by customers, we investigate," Andrew Olney, director of reliability and product analysis at Analog Devices Inc. (NYSE: ADI), said at the conference. "In every case, we're able to prove [the counterfeits] did not come from us." He was responding to an audience member's claim that he knew of counterfeits that had come from authorized distributors.
Olney also said that sometimes a buyer will purchase the same type of component from multiple sources — authorized and independent — and the parts get mixed together, so it's impossible to tell where they originated.
A source at a defense contractor (who asked not to be identified) told us that the 21 percent number is misleading. "It's the most misused chart out of the whole DOC study," the source said, because the survey counted the number of incidents, rather than the amount of counterfeits.
In fact, the DOC report says, "A single incident can involve a single counterfeit part or thousands of parts." Even so, I'm not sure that makes the chart misleading. It takes only one counterfeit part to cause a failure that can bring down a critical system.
Part of the problem may be confusion over what constitutes an authorized distributor. The source at the defense contractor said that all the major distributors have both a franchised business and a business that operates as an independent distributor. The DOC report confirms that: "Many authorized distributors also act as unauthorized distributors to some degree, buying and selling electronic parts outside of their OCM/OEM authorized product lines to meet customer needs." This purchasing, combined with buying back excess inventory from customers, "has introduced counterfeits into the inventories of authorized distributors."
So the finger-pointing continues. Some folks, mostly independents, insist that authorized distributors handle a fair share of counterfeits. Others, especially original component manufacturers and their franchisees, deny it and say that independents and brokers are the big problem. The truth? It's probably happening in all channels — probably much more often than we realize. And the numbers in a three-year-old report shouldn't even matter anymore.